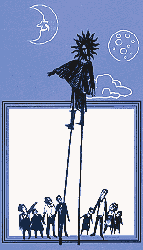 Kirov street, 116
Chelyabinsk, Russia
454000
Ph. (351) 233-22-03

The theatre repertoire:

"Bankrupt" by A. Ostrovsky, "Bloody Wedding" by F.-G. Lorka, "Thackeray Fay" by W. Thackeray, "Blue Beard" by M. Bartenev, "Winter Rainbow" by R. Pogodin, "Captain Blud's Island" and "Deer-King" by K. Gozzi, "Cipollino" by J. Rodari, "Puss in Boots" and "A Hotel for Those Who Travels to Beauty Land" etc.

The chief producer: Tengis Makharadze (until 1998)
Traditions:

Festival decades, weeks dedicated to theatre during school vacations, days of the theatre first visit, days for parents and teachers, theatre days in schools, colledes, meetings with actors and producers, discussions of performances, performances in summer camps, guest-tours etc.
Projects:

A joint project of the theatre with the Amsterdam youth theatre is underway.
Festivals:

Over the years of it's existence the Theatre for Children and Youth has won prizes at prestigious theatrical festivals. In recent years it has been a regular participant in International festivals of children theatres in Ekaterinburg.
The date of foundation:

1963.