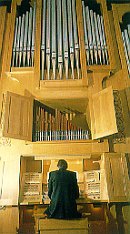 Aloe Pole
Chelyabinsk, Russia
454000
Ph. (351) 236-17-46

Building:

A chirch erected in 1910-1915 was restaured and reconstructed according to true drawings, done by the famouse russian architect academician A. Pomerantsev. The author of chirch restauration is a Moscow architect L. Nenaglyadkin.
Organ:

It came into being in 1987. The organ was created by the German "Oile" Company. It is consided to be one of the best in the world.
Organist:

Vladimir Khomyakov. He is also the organ guardian and tuner.
Festivals:

Chelyabinsk has become a home and a place of carrying out of many festivals of young Russian organists community "New Organ Association". A great many recordes of Russian organists concerts for CD were made in this hall.
The date of foundation:

September, 12, 1986.