At last momet before departure of Lev Gutovski and Sergei Belov to Stockholm where they are going to play their music for Tishkov's show the following document was appeared. Photos were added due to Center of Contemporary Art of Chelyabinsk.
---
ABOUT DABLOIDS
It is written much about dabloids. Nearly 75 reseaches with a great number of excellent author's illustrations are published by Dr.Tishkov. For more than 20 years this lonely enthusiast has been studying tirelessly life of this minor people of the Urals.

Thanks to his energy and talent the reading Russian public got an opportunity to familiarise themselves with these uniqueworks where you can find a lot of invaluable scientific material on natural sciences, anthropology, ethnography, theoretical and practical psychiatry, mithology, ortopegy. However, because of small editions such an opportunity wasn't practicable including the writer of this article.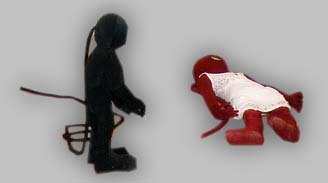 Only 2 years ago after personal contacts with Dr.Tishkov in the Centre of Contemporary Art in Tchelyabinsk an opportunity arose for me to study his works carefully and detail. But in this ocean of truly encycloPedic knowledge I could find none of the fact relating to musical life of dabloids with the exception of his work "New Facts About Dabloids"(Dablus,1992) and there is only a small section there called "Dabloids Music". But unfortunately in this section only its heading is connected with music. Everything else reflects either his personal taste and passion or his indisputable and original talent of a painter.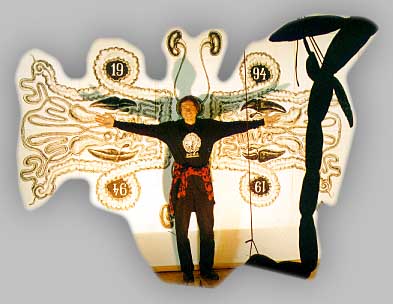 Further during our numerous talks we discussed this serious gap in creating the profound edifice of dabloidisation and successively came to an idea of mutual project of setting up the folk - ethnographic Expedition on the bases of NEW ART ENSEMBLE ( H X A), which should serve to fill in this gap and close the silent emptiness of the gun-port by its sickly body.
Setting up this expedition we took into cousideration the fact that dabloids live only in the Urals. So, owing to geographical position of Tchelyabinsk we found ourselves in a favourable situation as it was not necessary to go on business trips and spend much money. This fact against a background of endless financial crises and government pilfering helped to solve all organisational matters of our project.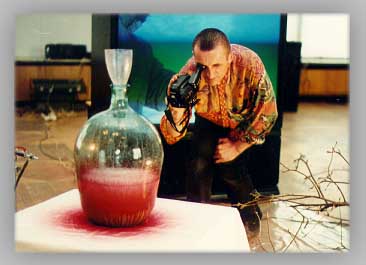 In 1997, after European Tour of H X A, our Expedition suppoting by Tchelyabinsk Gun-port Factory and Moscow Institute of Anthropology and Ethnography started to carry out its mission and completed its first stage in March 1998.
As a result we have a unique five-hour musical material at our disposal which has patly already deciphered. Part of this material music to "Dabloids" we prepared fo International symposium "Shaking heads - Making conflicts" which will take place from 23 to 26 April 1998 in Stockholm, in the Centre of Contemporary Art and Architecture "FargFabriken".
The detailed report relating to results of our Expedition alltogether with CD "Dabloid Music" is being planned to be released at "SOLID RECORD" in September 1998.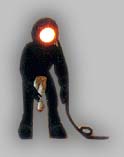 O.B.Laptev-Gusev,
chief of the projectÁ