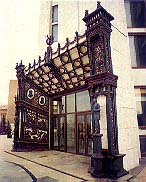 Revolution sq., 6
Chelyabinsk , Russia
454000
Ph. (351) 236-53-82

The theatre repertoire:

More than 20 titles of plays, every year new stages appear. Spectators may meet heroes of different plays, i.e. A. Ostrovsky ("Even a wise man stubles"), A. Andreyev ("Anfissa"), A. Chekhov, N. Erdman ("Suicide"), M. Bulgakov ("Zoyka's appartment"), T. Williams ("French quarter"), S. Maugham ("Circle"), D. Merezhkovsky ("Antichrist") etc.

The chief producer: Naum Orlov

The date of foundation: December, 1921.
Rewards:

"Lyubov Yarovaya" performance and the four main actors won The State Prize of the USSR, 1951. In 1956 "Klop" performance has become a prize-winner of the drama theatres festival. In 1986 the theatre was given the honorary title of the Academic for it's creative achievements.